The Tukituki Site
There are 3 new accommodation rooms which can house a number of people, a new kitchen area, hall and meeting rooms. This is a huge improvement over previous years. The original bunkrooms and ablutions blocks are still in use, so there will be plenty of room. The camp runs on a self service basis – whilst we will endeavour to organise some shared facilities, please come prepared to be fully self sufficient, including cleaning and tidying up after yourselves
Accommodation
Accommodation comes in a few options;
1) Old bunk rooms – these are a bit older now, but still quite comfortable
2) New bunk rooms – 3 at the back of new hall. One for men, one for women and one shared for families
3) Powered camp sites – Family area (total of 6, first come first served and selected when you book your tickets)
4) General camp sites. These are in two areas, up the top (Family area) and down the bottom (Night Owls). For the Night Owl area, we request that people are quiet during the morning, as people may well be sleeping having been up all night viewing
Cooking/Cleaning
There are facilities in there for cooking, cleaning dishes, making tea and coffee etc. There are also plenty of tables and chairs for dining. The kitchen is modern and should have enough appliances to cater for most of our requiements. There are also fridges available for our use, however their may be space constraints with them.
Toilets/Showers
The ablution block is situated between the main hall and the original bunk house. There are separate toilets and showers for men and women as well as a unisex disabled toilet around the back.
Main Hall
All talks shall be held in the end of the main hall that is closest to the ablution block.
Local Area
The registration desk has a collection of brochures of things that are available in the local areas – feel free to take one/some.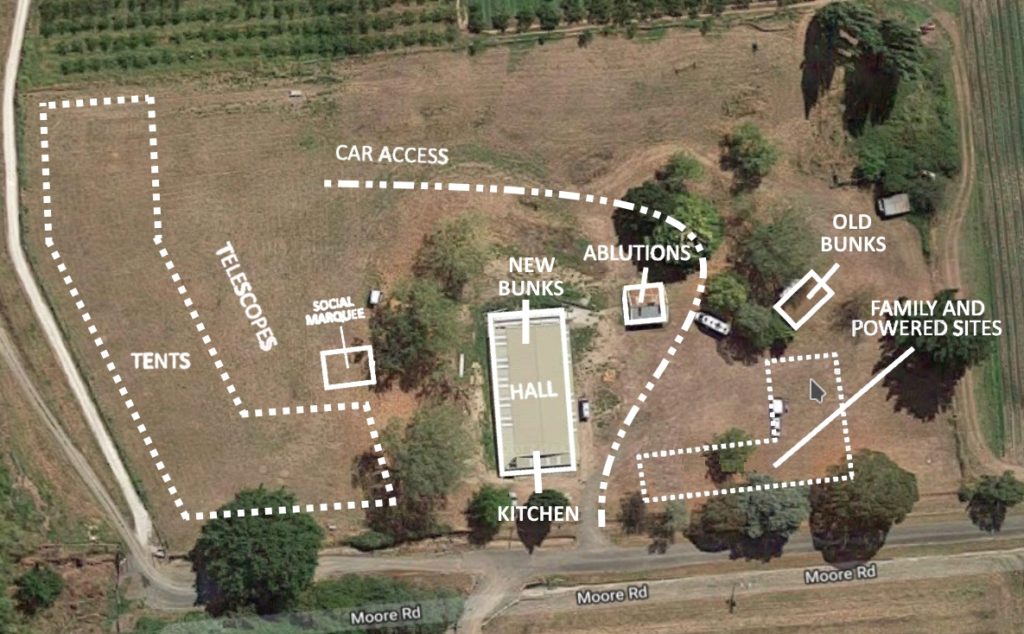 Site Rules
Family area: The top field, near the entrance, is the family area. This is where the powered sites are. It is where we require quiet during the evening/night, as there will be young famliiles staying there.
NightOwl area: This is the bottom field, and where much of the late night viewing will be undertaken. This area must be quiet during the day, as astronomers may be up extremely late at night.
Only red light torches please
No smoking in any buildings
No recreational drugs anywhere on the property
No pets
No fires
Please clean up after yourself, and if possible, help to keep the facilities clean and tidy for everyone's benefit